Video installation and CVD presented at Swarm Gallery, Oakland, CA in 2011
To view full video click on the image below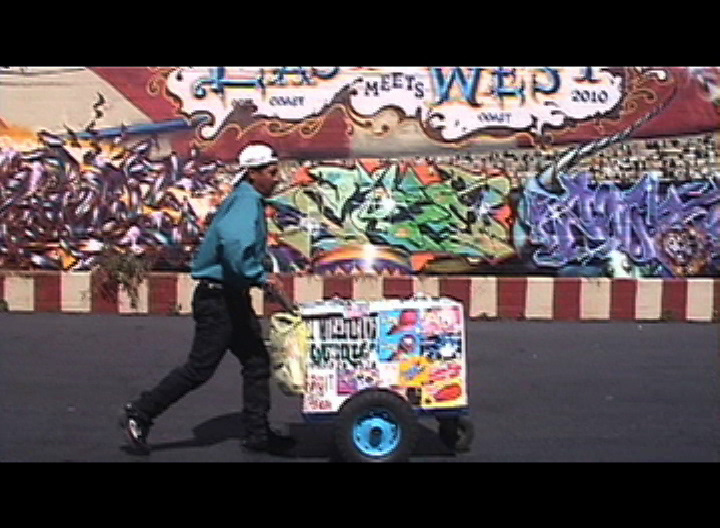 Promotional video for

4 Directions: International Blvd

video
Jake Watling's 

4 Directions: International Blvd 

is inspired by the Native American spiritual belief in the power of the four directions. The four directions referring to the four cardinal directions, North, South, East and West. The belief is that each of the four directions offers its own lessons and powers to guide one to their true self.

 
Watling choose Oakland's International boulevard as the subject of 

4 Directions: International Blvd

 

for many reasons. Since Watling moved to Oakland, California in the late 1990's he has been drawn to International boulevard and the areas around it. At first he was drawn to it primarily out of visual interest. As he spent more time and did more research on the boulevard he became equally interested in not only capturing the boulevard visually, but also the spirit of International boulevard. While taking video of the boulevard over the last year and talking to people on the boulevard Watling learned new lessons that will help guide him to the right path for his own life and hope for a better future for International Boulevard.
To capture the video Watling built a roof mount for his car to be able to capture video from multiple directions while driving. He also walked many blocks of International boulevard with his video camera to capture close-up footage of the architecture, signage, and people that inhabit the boulevard.
Although 

4 Directions: International Blvd 

is focused on one street in Oakland. I believe what is seen in the video can be seen throughout the East Bay. I want the viewer to see the diversity of people and cultures, but also the positive spirit and what can happen if we all come together to make a positive difference in our communities.