A solo exhibition of new paintings and s

culptures
at 
Anno Domini Gallery
 in San Jose, California.
The openin

g re

ception is on Friday November 4, 2022 from 5-9pm.
The exhibition runs from November 4 - December 10, 2022
The Dance,

acrylic on canvas, 96" x 60", 2022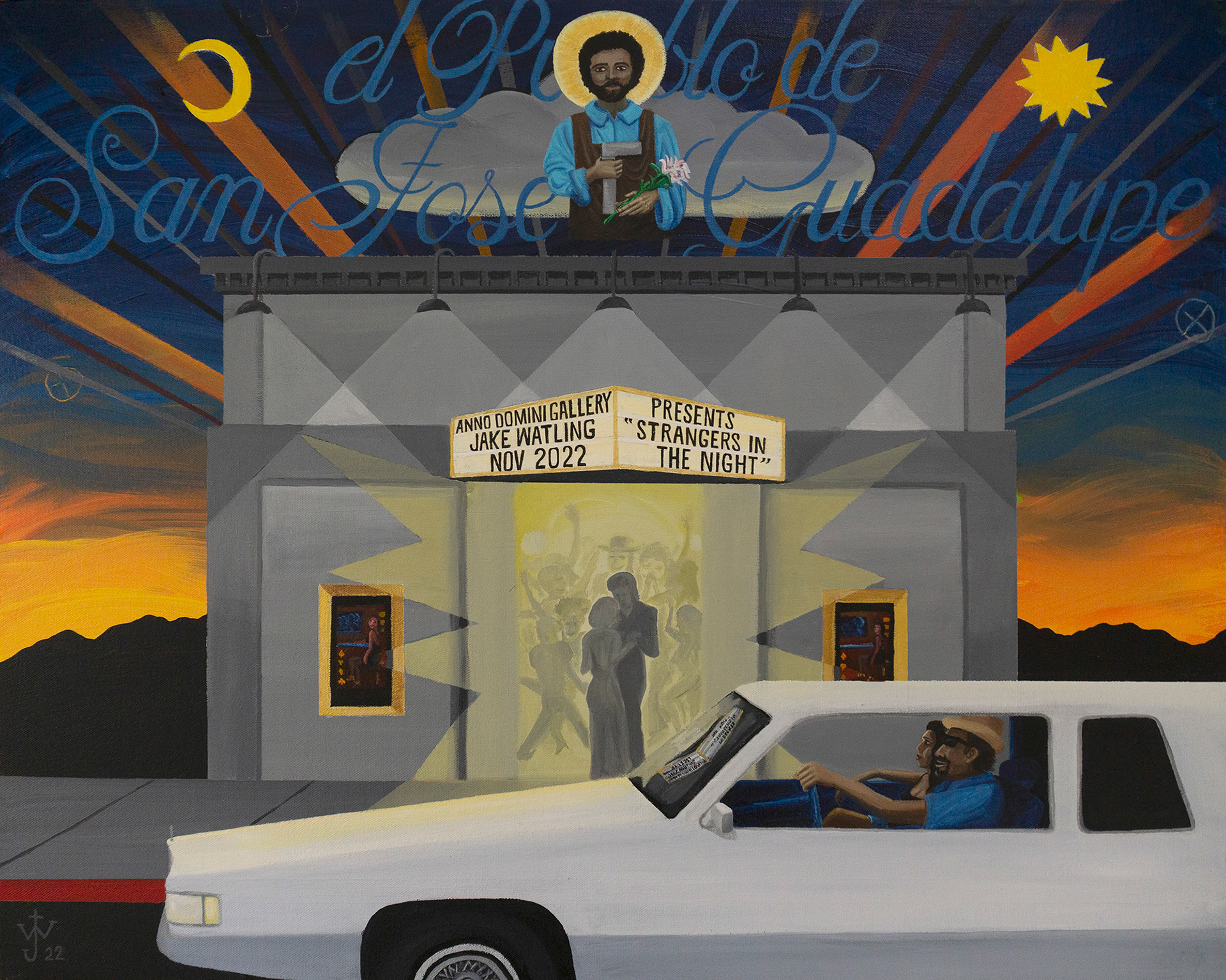 Strangers in the Night,

 a series of new paintings and sculptures by Jake Watling. In his most personal series, Jake Watling works through thoughts and emotions of battling bone cancer and all the love and luck it took to get him through three separate bone cancer battles. This series is named after the song 

Strangers in the Night,

Jake and his wife Mahtab's song together, which, like this series, depicts the journey of the human experience.
In 2014 Watling was diagnosed with osteosarcoma, bone cancer. With a lot of love and support from friends, family, doctors, nurses and especially his wife, Mahtab, he made it through treatment and multiple surgeries. Unfortunately after he made it through the initial treatments and surgeries that wasn't the end of the war, he had to go through two more recurrances of metastatic bone cancer and more surgeries. Thankfully since 2020 he has been cancer-free and he is praying his battles with cancer are behind him.
Watling's new series of paintings and sculptures utilizes significant moments in space and time, both past and present, to symbolize a variety of emotional states that he had while going through cancer treatment and recovery, from the fear and anxiety of being diagnosed with cancer and looking death in the face to the love he felt from those around him and the hope of a better tomorrow. Watling chose to set the paintings at night to represent the darkness and despair he went through during his battles with cancer, but within each of the paintings there is a source of light, both literal and symbolic, that brings hope, love and positivity to the artwork. Watling used himself and his wife as the protagonists within the paintings to show moments together along life's journey as well as to use them as symbols of the human experience, from their first glance as strangers in the night to life long partners in love forever. 
 


Bio and General Artist Statement:


Jake Watling forms his graphic narrative imagery by combining his recorded ideas and experiences with a personal language of signs and symbols. The signs and symbols take many forms, including: people, text, signage, cars, architecture, esotericism, religion, as well as others.

Jake Watling received his B.F.A. from the College of Visual Arts in Minnesota. He has exhibited his artwork throughout the United States. His work can be found in many private collections as well as the Museum of Modern Art collection in New York. Watling currently lives and works in Oakland, California.
 


More info on the works:


• Drawing from his personal language of signs and symbols to create the Strangers in the Night series, Watling wanted to represent not only significant moments in time and space, but also significant places, from the Oakland, California dive bar where he met his wife, Mahtab, to driving down 880 to Stanford for cancer surgeries and treatments, to Anno Domini Gallery that this series is being shown at.

• Cars and driving also factor strongly into Watling works, representing the journey through life as well as cruising around the Bay Area contemplating life and taking in the environment that he lives in.

• While making 

Strangers in the Night

 Watling pulled inspiration from past and contemporary artist's works including Vincent Van Gogh's night and cafe paintings, Alex Katz's paintings of his wife Ada as well as works by Matisse including

The Dance

.